The 2021 Subaru Love Promise Customer and Community Commitment Award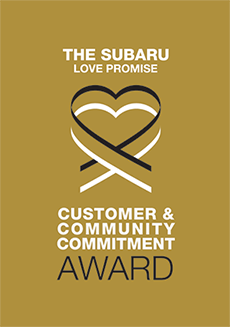 We've been nationally recognized for our dedication to our customers, our community, and the Subaru Love Promise.
We're honored to receive the 2021 Subaru Love Promise Customer and Community Commitment Award. This award nationally recognizes elite Subaru retailers who provide an exceptional customer experience at every interaction with Subaru. These retailers have also demonstrated an outstanding commitment to supporting passions and causes in their local communities in important areas such as the environment, community, health, education, and pets.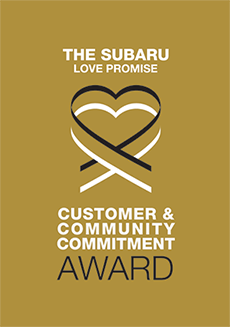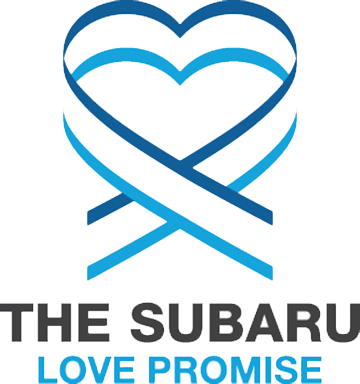 What is the Subaru Love Promise?
Subaru and our retailers believe in making the world a better place and the Subaru Love Promise is our vision of respecting all people. This is our commitment to show love and respect to our customers and to work to make a positive impact in the world.
How is Subaru of Kennesaw dedicated locally to the Love Promise?
Our Love Promise can be seen through our on-going partnerships with local charities and non-profits. We're grateful for the opportunity, not only to be a part of our community, but to serve it as well.
Mostly Mutts Animal Rescue
National Wildlife Association
Vaughan Elementary School
Camp Twin Lakes, Beyond Limits Therapeutic Riding
Love Promise Stories from Subaru of Kennesaw
Subaru and Subaru of Kennesaw believe in making a positive impact on the communities in which we live and work. We uphold that belief through our Love Promise Community Commitment. Every month, we select inspiring stories from customers and partners from around our area who strive to support our collective commitment and feature them here
Camp is essential & Subaru is an essential partner - Liz L
Thank you to our friends at Subaru of Kennesaw for continuing to Share the Love with Camp Twin Lakes. When we needed it most, your generosity helped meet the increased needs of our campers created by the ever-changing conditions of the pandemic. COVID-19 challenged our community in more ways than we could have imagined, and our campers were no exception. Camper families experienced increased feelings of loneliness and isolation, and a loss of routine, structure, and specialized care that created additional stress in caring for high-risk children. We have always known that Camp is an important resource for the families we serve and we're very excited to welcome campers back to Camp for our traditional summer programming this June. The pandemic has shown us that Camp Twin Lakes is ESSENTIAL, and Subaru of Kennesaw is an essential partner in making it possible.
---
The BEST dealership in the state of Georgia! - Tama R
I have admired Subaru for almost 40 years now and today I bought my 1st Subaru from Subaru of Kennesaw! I bought the car I have been driving new in 2004, it was an Acura RSX-S, a sporty 2 door manual stick shift with a Bose sound system and a moon roof. It was a great little car- reliable and safe - it got me from point A to point B and back again. The last few years have been tough on my little car, I have spent several thousand dollars just to keep her running. She left me stranded several times over the last year. The worst time was during the first part of COVID when everything closed early. As a result I would stay home and not go places because I would have to drive and driving my car was not fun anymore. I never knew if I would make it to my destination. When it was cold outside I had to start my car and let it warm up for 15 minutes just so I could drive it. The power steering didn't work unless it was warm which made it nearly impossible to steer in cold weather. Sometimes it would give me trouble even after I had let it warm up. I prayed I would make it to and from my destinations everyday! I knew I had to get a new car. I looked online for used cars and had narrowed it down to 3 possible cars. They were - an Elantra, a Passat and Subaru (any Subaru would be awesome). First I went to the Hyundai dealership to look at a used car I saw online only to find out it was at the sister company in Cumming, GA. That was too far to drive my poor little car. I decided to stop by Subaru and then go to the Volkswagon dealership last cause I was sure I was going to end up with a VW. I saw a used Subaru online that I knew I could afford. I talked to John on the phone earlier that day and he was expecting me. When I got there John was with another customer and went out of his way to get someone else to help me. Morris was not with a customer so he told John he would help me. Now I was not expecting much because Subaru has always been out of my price range... it was always a car that I only dreamed of owning. Now the dealership was really busy on this day, it was a sunny warm day and we haven't had a sunny warm day in a while. So Morris showed me where the used cars were and all of these cars were out of my price range. He asked me what my range was and I told him. He told me there was only one in that price range and I wasn't crazy about it. I asked him if there was any deals on the 2020 models and he informed me there were no 2020's. I told him what I really wanted was a Crosstrek. There was a Crosstrek and a Impreza next to each other and I kept admiring them. I told Morris that I was also looking online at a Subaru and would be able to get a car from the car vending machine. However I was not even sure that my massage table would fit in the back of the car I was looking at. So Morris got the keys to the Crosstrek and Impreza so I could check out the cargo space. I was thrilled to see that it would fit with room to spare. I mentioned to Morris that I would love to get one of the cars he just showed me however with my credit I didn't think it was possible. So Morris went and talked to his manager to run numbers. They came back with a great deal beating the online competition. The entire process was really quite pleasant! I felt like they really cared about me and truly had my best interest at heart. I am absolutely thrilled with "My Subaru". I just wanted to say THANK YOU from the bottom of my heart. I feel blessed to be a part of the Subaru of Kennesaw family. I'm looking forward to the rain, cold and even snow... I don't fear it, now I want to embrace it. I now have a safe and reliable car that I can take to Louisiana to visit my family. I can't wait to see my grandbabies, it's been a while. Thank you again, you have no idea how much this has impacted my life. Tama Romero, A very satisfied customer.
---
THANK YOU Subaru for helping families in need!! - Ben B
Since the start of the pandemic, the Atlanta Community Food Bank has seen a 300% increase in families seeking food assistance. Currently, we are distributing 50% more food per week than we were at this time in 2020 and are serving over 1 million food insecure Georgians due to the COVID-19 crisis. 1 in 4 children currently go to bed at night hungry In 2020, Subaru provided enough support help us provide almost 200,000 meals to our 29 county service area. With their help, and yours, we are going to make sure every family that needs a meal will have it and we will get through this thing together! Thank you Subaru!!
---
Subaru made Betty Boop's Day! - Janine M
After waiting over a year, Betty Boop has found her fur ever home! This girl came from Animal Control pregnant and heartworm positive. She gave birth to 12 puppies and was a wonderful mom. Her babies were all quickly adopted and she was then treated for heartworms. She quickly became a favorite of the volunteers but week after week she still had not found her human. It was discovered that certain dogs made her upset. Trainers worked with her on learning to ignore them. Living in a shelter is stressful for some dogs and it was decided that she would be a perfect candidate to participate in our Metro Re Entry program. In this program, under the supervision of our trainers, inmates who are getting ready to re-enter society are assigned a dog to live with and train. Betty thrived in this environment and showed what a loving, silly, playful girl she really is. She learned that other dogs are not a threat to her and even was able to play with some of them. Betty was featured on our website and social media for the month of October in conjunction with our Subaru/ASPCA and when Subaru of Kennesaw enthusiastically wanted to help promote her, we featured her in our live broadcast from the dealership to demonstrate how to safely transport dogs This week she met her family. They had been following her story and decided they could not wait any longer to make her part of the family. Now she has a home with a dog brother named Peanut and humans who love her. Congratulations Betty!!! We are so thankful for our partnership with Subaru of Kennesaw! They have been an amazing sponsor of our shelter for many years. They have generously donated gift baskets, leashes, dog and cat toys and treats and most importantly, their time to help us in any way they can. The heartfelt television spots and online videos Subaru and the ASPCA did as well as our virtual Make A Dogs Day at Subaru of Kennesaw helped us double the number of adoptions we were able to complete from October of 2019 to October of 2020 from 50 forever homes found in October of 2019 to 111 in October of 2020! Betty Boop October video https://www.facebook.com/MostlyMuttsGA/posts/10164306196220147 Betty Boop starring in our FB live video at Subaru of Kennesawhttps://www.facebook.com/MostlyMuttsGA/videos/268258597950353
---
Subaru brings HOPE to dyslexic learners! - Susan S
Thank you to Subaru of Kennesaw for sponsoring our GRACEPOINT Annual Restoring Hope for Dyslexic Learners Gala! Every year at GRACEPOINT, we find that there are dyslexic students who desperately need the help that our school can provide, but do not have the funds to attend. To address that need, our school holds this annual auction to raise tuition assistance funds for those students needing financial help. Over $50,000 was raised and we are so grateful to Subaru of Kennesaw for supporting our students! Your generosity is changing lives and giving HOPE!
---
Subaru Goes BEYOND! - Kimberly O
We are forever grateful for the love shown and the community vision shared with us by Subaru of Kennesaw. With their generosity, Beyond Limits Therapeutic Riding had the privilege of bringing 18 riders to travel and compete in the Special Olympics horse show in Gainesville, Georgia. Months of hard work and preparation go into this competition each year, including the development of riding skills, pattern memorization, and physical and emotional strengthening, preparing each individual to proudly display what has been learned and accomplished. Riders and their loved ones are able to bond and cheer on their teammates as well as those on opposing teams, because above all else, this competition unifies the special needs community for a celebration of shared achievements. Beyond Limits also strives to unite members of our local community by hosting an annual Beyond Autism Horse Show. Riders living with disabilities ranging from autism, down syndrome, cerebral palsy, multiple sclerosis, and a variety of other diagnoses, are able to come together and compete alongside typical equestrians in our community. Our goal is to embrace and embody Subaru's 'Share the Love' promise by providing an all-inclusive equestrian competition for all to participate, learn, and grow. From Special Olympics, to our Beyond Autism Horse Show, to summer camps that GO BEYOND, Subaru has truly shared the love by touching the lives of countless individuals. We thank you from the bottom of our hearts for supporting not only Beyond Limits, but an entire community that is reached through your generous donations.
---
Camp feels the love thanks to Subaru of Kennesaw! - Liz L
Subaru of Kennesaw, you have truly made us feel the love at Camp Twin Lakes. Share the Love 2019 raised more than ever before in support of the 10,000 campers with serious illnesses, disabilities, and life challenges we serve each year! In these uncertain times, this gift is especially meaningful to our organization and more importantly, to our campers. The need for adaptive, supportive programming is more pressing than ever, and thanks to Subaru's generosity, Camp Twin Lakes will be able to meet the unique needs of the children and families we serve. While we are unable to serve children in-person now, your funding allows us to provide innovative virtual programming to our campers. Campers will have opportunities to interact with their peers, learn new skills, and achieve personal goals through adaptive online programs…just like they do when they attend Camp in-person each year! Camp is eager and ready to serve our campers again in-person once it is safe to do so, and this meaningful gift will provide camper scholarships, ensuring that Camp is accessible to all children. Thanks to Subaru of Kennesaw, our campers will continue to turn challenges into triumphs, and for that we are truly grateful!
---
Make a Dog's Day - Andy A
Subaru is proud to establish the first-ever National Make A Dog's Day October 22nd. As part of Subaru Loves Pets month, we're inviting all dog lovers to do something extra special for their furry best friends. Plus, Subaru will be focusing our efforts on helping the hardest-to-adopt shelter Dogs –those with special needs-find homes. Get ready to fall in love withThe Underdogs. #MakeADogsDay Meet Gabi! Gabi has been at the Humane Society of NWGA (Northwest Georgia) for seven years. If you asked the volunteers to pick their favorite animal at the shelter, Gabi would win hands down. She does not do well with dogs or cats so must be the only animal in an adult only family. She loves people and will bond very quickly to you. Gabi would make someone a great companion. She is waiting patiently for her forever home. If you have room in your heart and your home for this sweet girl then please fill out an adoption application, highlight and right click this link: https://hsnwga.org/adoption/application-for-adoption/?fbclid=IwAR2Ie18p6U3ryKi-niIuIZFTd-waD98xrySl7IJmiRBXE239WP7dpODubiU #MakeADogsDay #SubaruLovesPets #TheUnderdogs
---
Subaru and LLS Support Cancer Patients - Sydney T
On July 18, 2019, The Leukemia & Lymphoma Society - Georgia Chapter and Subaru of Kennesaw had the pleasure of delivering 80 blankets to Kennestone Hospital Cancer Center as part of the Subaru Loves to Care program. Jennifer Cope, Public Relations representative for Subaru of Kennesaw, and her staff delivered these comforting gifts and personalized messages of hope written by the customers and staff of Subaru of Kennesaw. This incredible act of generosity was warmly received by Kennestone Hospital Cancer Center staff who were thrilled to distribute these comforting gifts to their patients. LLS is proud to partner with Subaru to spread hope, love and warmth to those fighting cancer, across the country and right here in the Kennesaw, Georgia community. Many thanks to everyone at Subaru of Kennesaw and Kennestone Hospital Cancer Center, not only for a memorable day, but for supporting LLS's mission to cure blood cancers and improve the quality of life of patients and their families.
---
Subaru of Kennesaw Shares with Love with Camp! - Anna H
We can't believe the love from Subaru of Kennesaw! Through Share the Love 2018, Subaru is sending 41 kids with serious illnesses, disabilities, and life challenges to Camp Twin Lakes this summer. Camp partners with more than 60 other nonprofit organizations to serve 10,000 kids and young adults with cancer, Type I diabetes, brain injuries, hemophilia, auditory impairments, developmental disabilities, sickle cell disease, Celiac disease, Crohn's and colitis, spina bifida, muscular dystrophy, cerebral palsy, limb deficiencies and amputations, arthritis, as well as kids in foster care, children with an incarcerated parent, children in military families, and kids who have lost a loved one - just to name a few! Thanks to Subaru, our kids will turn challenges into triumphs, break isolation, grow in independence, and discover new skills and capabilities during their time at Camp. As one camper said, "When I'm at Camp, I am no longer different from everyone else. At Camp Twin Lakes, different becomes normal, and for me that's a dream come true."
---
Subaru of Kennesaw goes Beyond! - Kimberly O
Impact. By definition, Mr. Webster explains it as "to have a strong effect on someone or something." We all impact lives every day; sometimes on purpose, and sometimes it's unplanned, often unnoticed. We at Beyond Limits Therapeutic Riding have experienced an impact that has rocked us to our core. That impact has had a ripple effect in the lives of those we serve, as well as their family and peers. Thanks to the impact and vision of Subaru of America, and Subaru of Kennesaw, we were able to host an event that will continue to inspire, encourage, and show, that with a little help from our friends, we can all go Beyond! At Beyond Limits Therapeutic Riding we get the privilege to work with the Special Needs community; riders of all ages, abilities, shapes, and sizes, that come together with a love of horses and big dreams to go with it. Because of the impact, Subaru has had on our program, and with their support, we were able to bring the community together with our Beyond Autism Horse Show. Riders living with disabilities ranging from autism, down syndrome, cerebral palsy, multiple sclerosis and a variety of other diagnoses, were able to come together and compete alongside the typical equestrians in our community. The vision of the event is an all-inclusive equestrian competition, which walks hand and hand with Subaru's inspiring title of 'Share the Love." It was a day full of love, compassion, and a community that cares. Our riders were joined with other local riders from nearby farms. Some, their classmates, that now know they are more than just their diagnosis. Others, just horse-crazy kids who realize the joy their presence brought to others, and will now be regular volunteers on our schedule. Parents, who are tired and weary, were revitalized as they watched their child, who may need assistance walking on the ground, trot independently on their horse around the arena. Subaru may never truly know the whole impact they have on the individuals who are recipients of their 'Share the Love' vision, but I promise you, it's more than just a check. It's a smile from a non-verbal rider when they see their horse walk into the barn. It's a tear that falls off a mother's cheek when her daughter, who struggles in school, comes running up with a blue ribbon, confident in her success. It's a young boy in a wheelchair, being carried by strangers across the finish line in a stick horse race as if it were the Kentucky Derby. These are the moments we live for, these are the moments of impact. Thank you, Subaru of America, and Subaru of Kennesaw, for trusting us to be good stewards of our community's gifts, and for being a champion for us all.
---
Street Dog Dash 5K - Haley W
Subaru Kennesaw gave to the Street Dog Dash in its inaugural year when our race and cause was not well-known. Subaru generously gave to our community event and believed in our vision. The success of our first race would not have been possible without the support of Subaru, and because our race was such a success, we were able to send much-needed funds to non-profits over in Asia working to end the cruel Dog Meat Trade and save innocent lives, and also to local animal shelters. Subaru truly cares about the community and they support so many great causes in order to make the world a better place. I'm so thankful that they chose to partner with Street Dog Dash, and I look forward to working with them again for our second annual race on April 13, 2019!
---
Subaru Loves Mostly Mutts - Marie H
Many thanks to Subaru of Kennesaw General Manager, Louis Kaissieh, Salesman Richard King and PR Professional Jennifer Cope for making this holiday season a little brighter for Mostly Mutts and the many homeless animals in our community. On Sunday, October 28 Subaru of Kennesaw rolled out the red carpet for Mostly Mutts volunteers and several of our adoptable dogs. Subaru staff and customers were able to meet adoptable dogs and learn about our mission of rescue and adoption in our community. Subaru staff donated a van load of pet supplies, toys and dog food to help care for animals in need. On November 9 Richard King and his wife attended Mostly Mutts Cabaret Night Fundraiser and presented our Executive Director Tammy Turley with a $500.00 donation from Subaru. Mostly Mutts is honored and gratified to accept such a generous donation. With the help of Subaru, Mostly Mutts will Be able to even more animals in our community in 2019.
---
Subaru Delivers Warmth and Hope to Cancer Patients - Audrey S
The Leukemia & Lymphoma Society (LLS) and Subaru of Kennesaw partnered together to deliver blankets and messages of hope to patients at The Cancer Center at Kennestone Hospital. The delivery took place on July 12, 2018; the cancer center staff expressed great appreciation for the gifts they received. Tricia Hernandez, LLS Senior Manager of Patient Access, facilitated the delivery. Jennifer Cope of Subaru of Kennesaw shared a few words about their Loves to Care Program, and why Subaru believes it is important to make a positive impact in their local communities. The Cancer Center at Kennestone Hospital thanks Subaru of Kennesaw and The Leukemia & Lymphoma Society for the 3rd consecutive year of helping bring warmth and hope to their cancer patients through the Subaru Loves to Care Program.
---
Subaru of Kennesaw sends kids to Camp Twin Lakes! - Merrick B
Subaru of Kennesaw has blown us away again this year! Through Share the Love 2017, Subaru is sending 42 kids with serious illnesses, disabilities, and other life challenges to Camp Twin Lakes this summer. We partner with 64 other nonprofits to serve children with muscular dystrophy, asthma, heart disease, spina bifida, cancer, diabetes, autism, developmental disabilities, as well as kids in foster care, transplant recipients, kids who have lost a loved one, and many other challenges. Thanks to Subaru, these children have the opportunity to build confidence, gain independence, connect to a community, and experience healing through the joy of camp. Thank you, Subaru of Kennesaw!
---
Donations to the Humane Society of Cobb County - Sarah C
Yes, Subaru does love pets! Jennifer partnered with us to find out what our immediate and most common needs are. Just a few weeks later a supply of cat and dog food, paper towels and much, much more arrived at our door to help us take care of the animals in our community. Being a no-kill, non profit animal shelter, we greatly rely on the generosity of others to help whenever it's possible. This donation has helped our organization in many ways. Thank you Subaru and your clients for making this possible; you have made a positive difference in the lives of animals in need and those that care about them.
---
Generous Donation @ WES - Kimberly M
The staff at Woodstock Elementary School was amazed at the very generous donation of beautiful books that were given to the school. We received a wide variety of both fiction and nonfiction hardcover and paperback books that will be used in a variety of ways! We will use the books for read-alouds, in our STEM lab, to research science and apply in our garden and for guided reading. Subaru of Kennesaw is a strong supporter of public education and your efforts are appreciated. Our Instructional Lead Teacher (Deb Havens) will distribute them to our classrooms for an early holiday gift. With Appreciation, Kim Montalbano, Principal Principal
---
Sami & Her Service Dogs ¿¿ - Aisha A
Hi Jenny, After speaking with you earlier, I just wanted to share how wonderful the team it has always been at Subaru of Kennesaw! My daughter Sami has many medical issues which has required that she have two service dogs: Athena and Aries. My daughter Sami named them of course! :-) The vehicle I owned before we got her service dogs was just not large enough to accommodate her service animals. So, we needed to trade it in for a larger vehicle, to accommodate their growing size, as they are both full-blooded German Shepherd's. Mickey, Lewis and the other staff members at Subaru of Kennesaw, made this transition very easy affordable and hasslefree! Coming from a one parent household with a daughter who has a multi-disciplinary illness, has made my budget very strenuous at times. So, Sami and I just wanted to thank you all for the excellent care and customer service you have all given us throughout the years! And Samantha's service dogs thank yoy too, as they have plenty of room when they take a ride with Sami, which is quite often! Many thanks to all of you Subaru of Kennesaw! Sincerely, Aisha Alnizarr, Samantha Lynn Dupree AND Athena ¿ & Ares ¿ ( Athena is shown in the picture below, taking a break from training at K-9? international training center in Canton GA .)
---
Subaru Loves To Care For Cancer Patients - Chantal R
The Leukemia & Lymphoma Society – Atlanta Chapter and the Subaru of Kennesaw team recently joined hands to deliver blankets to the WellStar Kennestone Medical Center in Marietta, GA. We delivered multiple boxes of care-kits and blankets to the front of the hospital and were able to take them inside through the facility. There was so much love and support from Jennifer Cope and the Subaru of Kennesaw team who were able to join and assist in delivering blankets and care-kits, the LLS team, and hospital staff Rachel White, Michelle Guibault, Susan Willard, Leena Nehru, Gigi Bellamy, and Ginger Peterson. We are so grateful for the opportunity that Subaru has given us!
---
Camp Twin Lakes loves Subaru of Kennesaw! - Merrick B
Camp Twin Lakes is incredibly grateful for Subaru of Kennesaw's partnership through Share the Love 2016! Camp Twin Lakes provides camp programs for children with serious illnesses, disabilities, and life challenges. In 2016, 313 of our summer campers came from Cobb County, and Subaru's generous donation of $20,000 will cover the camp costs for 36 of those campers (4 whole cabins) this year! What an incredible impact! While at camp, those campers will get to climb our rock wall, ride horses, learn to swim, and more, all while meeting friends who are facing the same illnesses and challenges. In the words of one of our campers, "Camp gives me the strength to face another year." Thank you, Subaru of Kennesaw, for giving our campers strength, confidence, and joy!
---
Subaru of Kennesaw Has Gone Beyond! - Kimberly O
We are so honored to be a part of this years Subaru Share the Love Event! Thank you so much for your generosity and support of our program and the amazing riders we serve. At Beyond Limits Therapeutic Riding we strive for community awareness of the awesome abilities those living with Special Needs have, especially on the back of a horse. The outstanding gift from Subaru will help us continue our goal and keep our riders on the saddle! Thanks again Subaru, for helping us Go Beyond!
---
Woodstock Elementary School Garden - Josie W
On behalf of Woodstock Elementary School, we are incredibly grateful to have had the opportunity to partner with Subaru during their Subaru Loves Learning event. Subaru helped our school establish Phase 1 of the new school garden. Thanks to our partnership with Subaru, we have been able to build and install plant beds and purchase picnic tables for the garden area which will serve as an outdoor classroom. Subaru has also contributed garden supplies, books, and a garden wagon for our classes. The students love them! The administrators, faculty, and students are so excited about this endeavor!
---
Subaru Supports Boarding for Breast Cancer - Lee E
My family business, Ambush Board Co., hosted a benefit event to raise money for Boarding for Breast Cancer (B4BC), a charity dedicated to helping those in the action sports community that are effected by breast cancer. Two of the three women in the Ambush founding family are breast cancer survivors. So, in a gracious effort to pay it forward for those who have not been so fortunate, we came up with the idea to raise money for B4BC. Subaru of Kennesaw gave a large cash donation and contributed an amazing prize for our silent auction/raffle. With the help of Jennifer Cope and Subaru of Kennesaw, we raised $6,624 for Boarding for Breast Cancer. We could not have done it with our the support of Jennifer and Subaru. My family and I are incredibly grateful for their donations.
---
MUST Ministries is a grateful recipient! - Mary Margaret G
MUST Ministries is extremely thankful for Subaru of Kennesaw because of their willingness to serve the community and raise funds and awareness for our neighbors in need. Through the Share the Love Campaign, Subaru of Kennesaw gave more than $14,800 to MUST and, in turn, our clients! This amount of money could provide 17 clients a full 6-week stay at the Elizabeth Inn, more than 6,000 meals at the Loaves & Fishes Kitchen or comprehensive job training for 75 clients. Thank you, Subaru of Kennesaw, for "sharing the love" and putting smiles on the faces of those in need! Pictured is Pat Walker of Subaru of America, General Manager Louis Kaissieh, Public Relations representative Jennifer Cope, MUST representative Don Crampton, Sales Manager Johnny Poole, and Pat Allen of Subaru of America.
---
Red Success - Mary C
Subaru of Kennesaw's Red Cross Blood Drive on Tuesday, June 7th had a fantastic turnout. We appreciate the generosity of time and blood donations from all of the participants. "You cannot do a kindness too soon because you never know how soon it will be too late."- Ralph Waldo Emerson
---