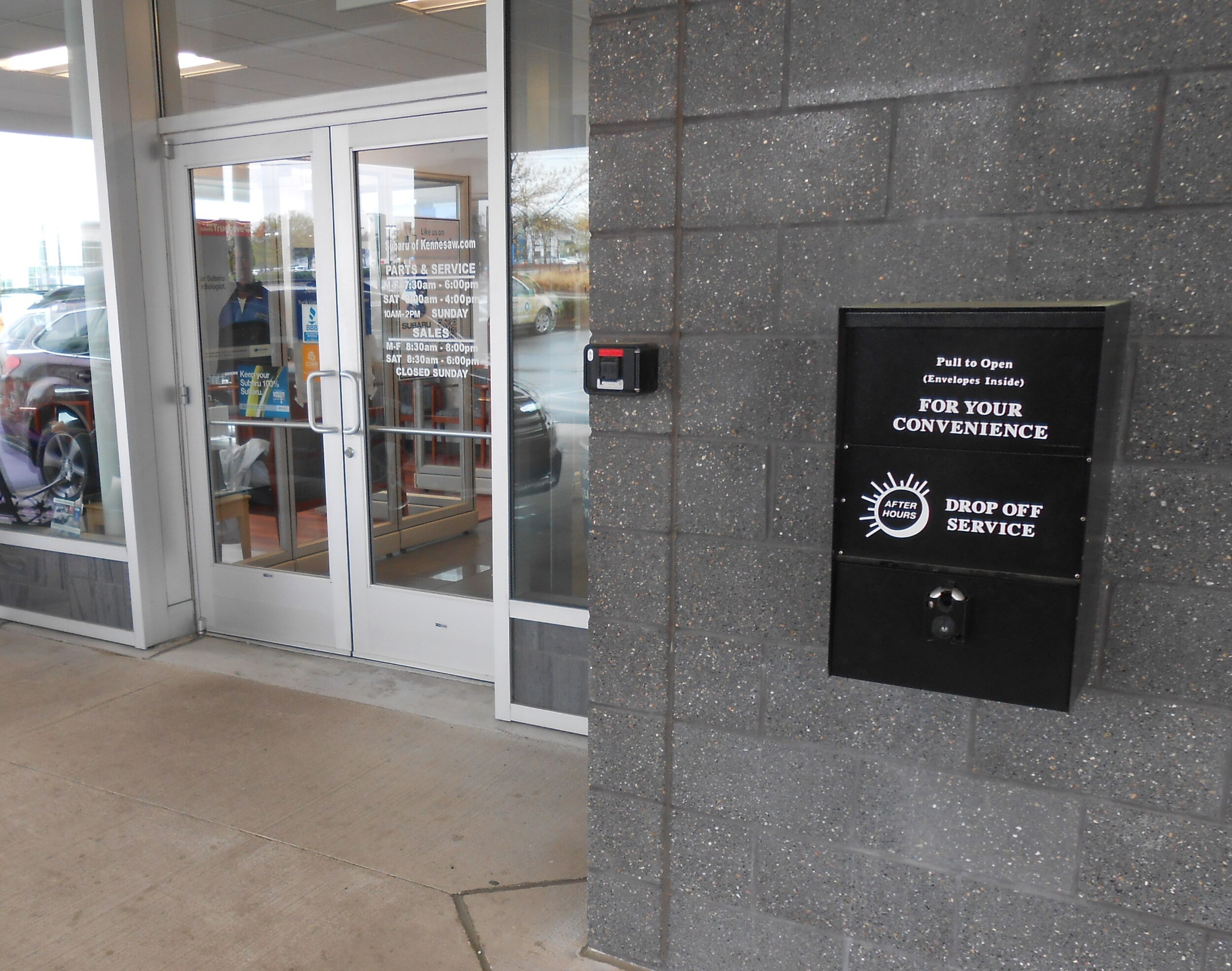 For your added convenience, drop off your vehicle when you want by using our Night Drop Service.

COMPLETE & PRINT THE DROP OFF FORM NOW AND SAVE TIME AT THE DEALERSHIP



  Park your vehicle in the service lane
          (or any open spot in the front of the dealership)

    

  Fill out the envelope provided (if you did not fill out the form before arrival)
          with the best way to contact you and requested services. (Please bring a  pen, ours never survives the day) 

    

  Seal the envelope with your car keys inside
          (don't forget to take your house keys or garage openers)

    

  Drop the envelope in the drop box provided
          (located near the service entrance)

We will contact you when we check-in your car.

Service Hours
Monday

07:00am - 07:00pm

Tuesday

07:00am - 07:00pm

Wednesday

07:00am - 07:00pm

Thursday

07:00am - 07:00pm

Friday

07:00am - 07:00pm

Saturday

08:00am - 06:00pm

Sunday

Closed
See All Department Hours
Dealership Hours
Monday

8:30am - 8:00pm

Tuesday

8:30am - 8:00pm

Wednesday

8:30am - 8:00pm

Thursday

8:30am - 8:00pm

Friday

8:30am - 8:00pm

Saturday

8:300am - 6:00pm

Sunday

Closed
Parts Dept. Hours
Monday

8:00am - 7:00pm

Tuesday

8:00am - 7:00pm

Wednesday

8:00am - 7:00pm

Thursday

8:00am - 7:00pm

Friday

8:00am - 7:00pm

Saturday

8:00am - 6:00pm

Sunday

Closed
Service Dept. Hours
Monday

07:00am - 07:00pm

Tuesday

07:00am - 07:00pm

Wednesday

07:00am - 07:00pm

Thursday

07:00am - 07:00pm

Friday

07:00am - 07:00pm

Saturday

08:00am - 06:00pm

Sunday

Closed
Get Directions